» Our Services » External Training Programs » New Course Announcement » How to Become an Effective Trainer (Training of Trainers)
How to Become an Effective Trainer (Training of Trainers)
Training Program
Date: September 1 - 2, 2016
Time: 8:30 - 16:30
Lunch: 12:00 - 13:30
Training Language: Khmer
Training Materials: English/Khmer
Deadline of registration: August 24, 2016
Registration
If you are interested, please fill our enrolment form and send to tauch.an@acledabank.com.kh or info@acleda-aib.edu.kh
Contact Persons
Mr. TAUCH An
Tel: +85­5 (0)15 600 185
E-mail: tauch.an@acledabank.com.kh
Mr. LONG Ratha
Tel: +85­5 (0)10 300 879
E-mail: info@acleda-aib.edu.kh
Training Venue
ACLEDA INSTITUTE OF BUSINESS, building #50, Street 516 Corner 335, 06 Village, Sangkat Boeng Kak 1, Khan Tuol Kork, Phnom Penh.
See map.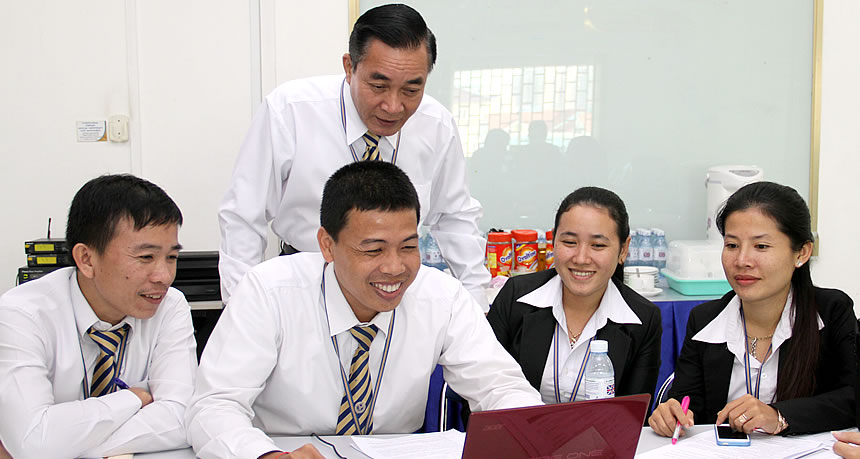 Employee training is crucial for organizational development and success. It is fruitful to both employers and employees of an organization. An employee will become more efficient and productive if he is trained well. It's not enough to train the workforce; you also have to train the trainer. In order to ensure the effectiveness of training delivery, train the trainers is most important. We strongly believe that all trainers should be trained both in the subject they teach (subject matter expertise) and how to teach/transfer knowledge/skill (instructional expertise) in the best-practice of adult training approach.
Who should attend?
Head of Division/Department, Branch Manager, Human Resource/Training Manager, Trainer, Trainer Assistant and someone who works related to training activity.
What you will benefit?
After completion of this course, the participants will be able to:
Understand the importance of employee training and development
Be familiar with training system
Know how to conduct TNA effectively
Use the effective training methodologies
Prepare lesson plan effectively
Develop the slide presentation/handouts attractively
Gain the training techniques for the training delivery
Course Contents
Employee Training & Development
Why training and development
What training and development
Benefits of training
Training types, methods, programs and benefits
Training Need Analysis
Training system
What/why/how training need
Pair comparison for subject matter to teach
Session Preparation
Problems of training and Effect
Training methods and Learning techniques
Trainer and facilitator
Adult learning (Employee learning)
Session preparation
Slide presentation design
Teaching Technique
Skills of trainers
Teaching techniques (before training, during training and post training)
Training Fee
USD 220 per participant per two-day training course.
USD 200 per participant for organization sending 3-5 participants to the course.
USD 180 per participant for organization sending 6 participants up to the course.
This fee includes training materials, refreshments, lunch and certificate.
Payment Condition: There is no charge for any cancellation which is made by the deadline of the registration. Cancellation after deadline of the registration and participants appearing without proper cancellation will be charged the full amount.
Methodology
The training methodology will be focused on experience based and participatory approaches including, group discussion with presentation, training game. The participants will practice in preparing the sessions and deliver the sessions with the constructive feedback from resource persons.
Trainers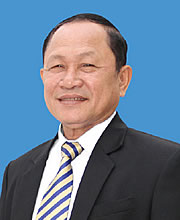 Mr. THONG Chandara, Adviser of ACLEDA INSTITUTE OF BUSINESS
Born on December 25, 1960. He held a bachelor's degree in Education at the Faculty of Advanced Education in Thailand, in 1992. From 1994 onwards, he has attended numerous courses on Microfinance and SME in Cambodia and overseas. In 1999, he completed an executive course on Financial Institutions for Private Enterprise Development (FIPED) at Harvard University, USA. From 1994, he worked in ACLEDA NGO as a Small Enterprise Promotion Officer (SEPO) and a Credit Officer. In 1995 he was promoted as a Deputy Provincial Branch Manager at ACLEDA Battambang Branch. In 1997, he was a Provincial Branch Manager at ACLEDA Kampong Thom Branch. In 2001, he was a Head of Human Resource Unit at ACLEDA Bank Headquarters. In 2002, he was a Head of Training Unit and he was a Vice President & Head of Training Department in 2006 and became a Senior Vice President & Head of Training Division from 2009 to July 2011. In August 2011, he was an adviser of ACLEDA Training Center. In February 2012, he was hired to do the research and feasibility study in Myanmar (Burmese) for ACLEDA Bank Plc. to establish a subsidiary ACLEDA Branch in Myanmar. At present time, he holds a position as an adviser of ACLEDA INSTITUTE OF BUSINESS.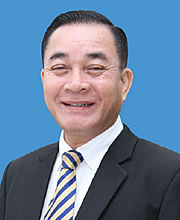 Mr. MEN Sophal, Adviser of ACLEDA INSTITUTE OF BUSINESS
Born in January 1958, obtained a certificate in Training of Trainers in 2006 from Australian Centre for Education, a certificate of successful completion of a course of study in MASTER TRAINING in 1989, certificate of Pedagogy in 1990 from Teacher Training Center in Thailand. He attends numerous courses on Training of Trainers, Curriculum Design and Development, Business Management, Business of Banking, Micro credit operation, and Managers for Business Incubators in Cambodia and overseas. He works in ACLEDA in 1993 as Small Enterprise Promotion Officer and Trainer. From 1994 he was assigned in different positions as follows: He holds a position as Technical Support Team / Medium Scale Enterprise Specialist. He got promoted as the Manager of ACLEDA Training Center in 1998. He was appointed to be Deputy Manager of Credit Department in 2000. From 2001 he was assigned to hold many different Management positions. In 2009 he was appointed to be Head of Academic Department and has been Deputy Head of Training Division in 2011. He became a Vice President & Head of Academic Department until 2013 and now he is an adviser of ACLEDA INSTITUTE OF BUSINESS.