» Training Program » New Course Announcement for Public » Practical Skills of Professional Accountant for Financial Institutions
Practical Skills of Professional Accountant for Financial Institutions
Methodology
The training methodology will be focused on experience based and participatory approaches including brainstorming, group discussion with presentation, group work, sharing hand-on experience, training game and participants' problem raised during training.
Training Program
Date: July 27 - 28, 2015
Time: 8:30 - 16:30
Lunch: 12:00 - 13:30
Training Language: Khmer
Training Materials: English
Deadline of registration: July 21, 2015
Registration
If you are interested, please fill our enrolment form and send to lim.dina@acledabank.com.kh or info@acledatrainingcenter.com.kh
Contact Persons
Mr. LIM Dina
Tel: +85­5 (0)15 600 185
Email: lim.dina@acledabank.com.kh
Mr. TAUCH An
Tel: +85­5 (0)15 600 185
Email: info@acledatrainingcenter.com.kh
Training Venue
ACLEDA Training Center, building #50, Street 516 Corner 335, 06 Village, Sangkat Boeng Kak 1, Khan Tuol Kork, Phnom Penh.
See map.

Who should attend?
Branch Manager, Finance Officer, Auditor, Teller, Chief of Accountant, Accountant, or someone who works related to finance and accounting.
What you will benefit?
After completion of this course, participants will be able to:
Understand an overview of accounting jobs for Financial Institutions
Gain practical experiences of accounting
Prepare accounting and financial reports effectively
Identify key risks of Accounting Jobs clearly
Course Contents
Overview of Accounting for Financial Institutions
Characteristic and Job's description of Accountant
Professional ethics & secrecy of accountant
Accounting in Practice for Financial Institutions
Loan disbursement process
Accounting Entry for loan
Pragmatism on incomes and expenses entry
Capital Expenditures and depreciation practice
Pragmatism on documentation for expenditure
Dual Control on Teller Operation
Accounting and Financial reports preparation
Balance Sheet and Income Statement
Cash Flow Statement
Financial Statements Analysis
Standard Reports for National Bank of Cambodia
Risks of Accountant for Financial Institutions
Key risks of accounting
Impacts of accounting risks
Hedging of accounting measures
Training Fee
USD 170 per participant per two-day training course.
USD 160 per participant per two-day training course for organization sending 3 participants up to the course.
This fee includes training venue and materials, refreshments, lunch and certificate.
Payment Condition
There is no charge for any cancellation which is made by the deadline of the registration. Cancellation after deadline of the registration and participants appearing without proper cancellation will be charged the full amount.
Trainers
Mr. PHIN Vanthak, VP & Head of Planning and Finance Department, ACLEDA Training Center
Born in 1980, hold a bachelor's degree in Accounting from Institute of Technology and Management in 2003. From 1999, he attended numerous courses on English Translation and Interpretation, Office Skills, Administration Affairs, Management Training Program for Chief of Branch Accountant, Coaching for Budgeting Preparation and technical support to AVP & Managers of Branch Accountant related to the field of Budgeting, Overview on CAS and CIFRS Workshop, Presentation of Financial Statements and Cambodian Taxation.
He started working for ACLEDA as Accountant in February 2004 and was promoted to Chief of Branch Accountant in 2005. He worked as Staff of Budgeting and Control Unit from February 2009 to July 2011, and then was promoted as Assistant Vice President & Manager of Planning and Finance Unit in August 2011, and he currently holds a position as VP & Head of Planning and Finance Department.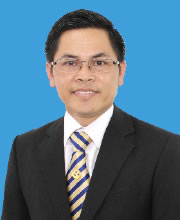 Mr. TUY Sovannara, Senior Faculty, ACLEDA Training Center
Born on 1978, he obtained a Master's Degree of Business Administration (MBA) major in Finance from National University of Management, Cambodia in 2011.He also graduated with a Bachelor of Arts majoring in English for Business Communication (English Based, International Program) from Pannasastra University of Cambodia in 2012. He gained a Bachelor of Economics in Banking and Finance at Norton University, Cambodia in 2000. He has attended numerous short courses on finance and banking, training of trainer, management and leadership which were organized by ACLEDA Bank Plc. since 2000.
He started working for ACLEDA Bank Plc. as a credit officer in 2000 and was promoted as a chief of credit officer in 2001. He moved to work as an Auditor in 2003 and was changed to Accountant at Operation Department, Headquarter, ACLEDA Bank Plc. in 2004. He was promoted as an Assistant Vice President and Manager of Accounting Unit at Trade Finance Division in 2007. He became a Senior Specialist at Trade Finance Division in 2013. He has been assigned as a member of trainer pool of ACLEDA Bank Plc. since 2007 and responsible for delivering training courses on task of accountant, financial and accounting management, financial statement analysis, planning and budgeting, ratio analysis, off- balance sheet entry of trade finance, set up credit line, input loan in bulk into system, and prepared monthly reports to management. He currently holds a position as a Senior Faculty, specialized in finance and accounting at ACLEDA Training Center.
Guest Speaker
Vice President of Finance Division, ACLEDA Bank Plc.