homenavigate_nextOur Servicesnavigate_nextTraining Programs for ACLEDA Staff
Training Programs for ACLEDA Staff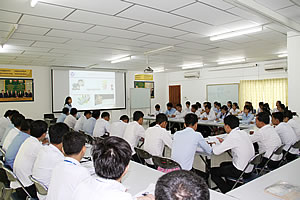 ATC has also been playing a crucial role in building the capacity of ACLEDA staff to contribute to the success of ACLEDA by offering a variety of training services to ACLEDA Bank Plc and ACLEDA Subsidiary Companies. Presently, four different types of training are provided to ACLEDA staff:
1. New Recruit Training
Training courses are prepared only for newly recruited employees to cover basic knowledge and skills for the best performance and behaviour in their duty and functions with the line of operating manuals and working culture of ACLEDA.
15-day-in-the-class training is provided to professional staff and 5-day-in-the-class training is for unprofessional staff before sending to coach them in practice at their duty destination for a probationary period.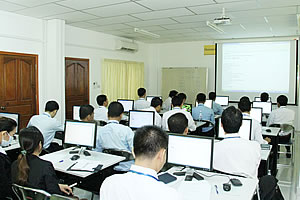 2. Skill Development Training
Courses are regularly offered to ACLEDA existing staff in all areas at least once a year on a yearly basis and upon request (in-the-class training, refreshing, workshop, on-the-job training, study visits) to continue to develop their skills and knowledge and to improve their attitude towards ACLEDA. Courses are prepared with critical and statistical training need assessment (TNA) analysis.
3. Introductory Training
This kind of training is recurrently arranged for ACLEDA staff that have changed their position or promoted to upper level to specialize in their new status.
A variety of introductory training curriculum is yearly developed and updated for all areas and training needs. Introductory training curriculum is also created or adjusted by the relevant divisions for the establishment of their new subordinate sections/units.
4. Training of Trainer
Courses are offered to ACLEDA trainer pool to enhance the quality of training and adult learning techniques, including training need assessment, training programs design, lesson plan preparation, training methodologies and presentation skills used in the classroom and the field.