homenavigate_nextOur Servicesnavigate_nextExternal Training Programsnavigate_nextNew Course Announcementnavigate_nextMicrofinance Winter Academy
Microfinance Winter Academy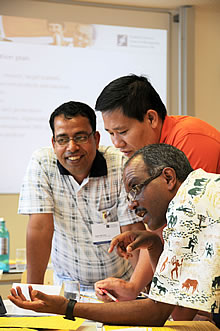 November 18 — 23, 2012
Siem Reap, Cambodia
Frankfurt School of Finance & Management and ACLEDA Training Center welcome you to the Microfinance Winter Academy
— Real Cases in Real Places —
As microfinance markets grow more mature and competitive, it is vital for microfinance managers to be equipped with up-to-date knowledge and tools in order to successfully face challenges of growth, complexity and competition.
Our intensive training prepares microfinance practitioners for the challenges of serving microfinance clients in changing and increasingly competitive environments.
Come and gain from the broad experiences from Frankfurt School and ACLEDA Training Center.
This one week program will give you the chance to learn from international best practices in microfinance as well as getting hands-on experiences through the practical orientation and field visits.
In a nutshell, our Winter Academy is a perfect opportunity for you to get high-quality international technical knowledge combined with real cases.
Interested? Join our MFI Management Summer Academy 2012!
Target Group: The Winter Academy focuses on management practices for MFIs and is geared towards managers of non-bank MFIs, central bankers and staff members of apex institutions who wish to gain insights in successful management of MFIs.
Visa application for Cambodia can easily be obtained on arrival or be done online at www.mfaic.gov.kh. Your Winter Academy Team is looking forward to assist you.
What does the programme offer you?
This one week programme will give you the chance to learn from international best practices in microfinance as well as getting hands-on experiences through the practical orientation and field visits.
Access to capital — November 19


During the last years, capital markets have shown increasing interest in the microfinance sector. The arena of investors has diversified quickly. This session will take a closer look at different funding options available for MFIs including the risks that come along with them. What are the consequences of taking in new stakeholders in the MFI? Which equity valuation methods can be applied in practice? How to assess whether a capital market instrument is feasible or not? The session will address the structure of various instruments and their cost/benefit profile. The latest trends in the current turbulent markets and will be addressed and discussed as well.

Operational management — November 20


This day will be dedicated to sustainable profitability management. We will have a close look at conceptual framework for asset & liability side retail product pricing. Further topics of indirect cost allocation systems and full activity based costing will be discussed in-depth and practical examples of allocation templates and excel models will be presented. In a last step we will check how to feed back product and process costing data into process design and cost management and how to increase efficiency through process improvements and institutional changes.

Risk management — November 21


Credit risk management is the main risk category for MFIs. Actively assuming credit risk is a key function of the MFI. Experience shows that many losses result from avoidable mistakes and a lack of risk culture within an institution. In the seminar we will first look at the foundations of a solid risk culture as a basis for credit risk management. Thereafter, we analyse tools to model the credit risk for individuals and for the portfolio as a whole. We will find ways to estimate the probability of default of individual exposures and will see how diversification can reduce portfolio risk. We look at various tools to mitigate credit risk and analyse their usefulness. The participants learn to apply user-friendly tools to improve credit risk management in their institution.

Transformation — November 22


We consider transformation as a major organisational change project that poses huge challenges to an institution. But what are the advantages and disadvantages of transforming MFIs into banks? After discussing that question, we will look in detail at individual issues to be addressed in this process. The course will end with a comprehensive case study: in small groups you will plan the transformation of an MFI and present your plan to a panel of potential investors.

Field visit — November 23


To underline what was learned during the week we will go for field visits to ACLEDA braches on the last day to experience what theory means in practice.

Beyond the training


In addition to the training, the program offers an evening sessions and social events during the week.
The methodology of the programme
Banking focus in an innovative environment


Frankfurt School of Finance & Management is one of Europe's largest business schools for banking and finance. Furthermore, we have gathered extensive experience in microfinance training and consultancy world-wide and know the ins and outs of mainstream banking as well as microfinance. In cooperation with ACLEDA Training Center, that provide highest quality training to local and international MFIs, NGOs, banks and financial sector stakeholders, our Winter Academy offers state-of-the-art banking and microfinance know-how, combined in one programme.

Practice orientation


Our Winter Academy has a practical focus. All modules include technical tools which are easy to apply to real-life situations. Our faculty has extensive practical experience in the field of development and/or commercial microfinance, assuring that real life examples are discussed. Additionally, participants will meet practitioners from the field, sharing lessons learned and ideas from their organizations.

Participant-centred approach


We take participants' experiences and needs seriously. We expect our participants to get actively involved. Various platforms are prepared for the exchange of experiences and knowledge, no matter if inside or outside of the classroom: group work, discussion rounds, presentations and an evening programme.

Meeting point


The course will allow participants to connect and network with similar organizations within their working area. Additionally, the limited group size (of approx. 30 participants) will ensure easy access to the trainers and experts.

Networking


Our participants leave the training not only with new technical knowledge, but also with a new world-wide network of other practitioners of the microfinance business. To support networking after the end of the training, we will invite all Winter Academy participants to join the Frankfurt School Friends & Alumni Portal through which participants will be able to stay in touch with your fellow students, alumni of past and future Winter Academies, FS and ACLEDA faculty and fellow team members.